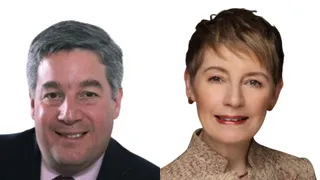 Riverstone International names two independent directors
RiverStone International, a UK-based legacy solutions provider with an office in Bermuda, has appointed two insurance veterans as independent non-executive directors of its UK subsidiaries.
Riverstone, which says it is the largest provider of legacy solutions in the Lloyd's market, appointed Heather Thomas (pictured right) and Jose Vazquez (pictured left) as directors of RiverStone Insurance (UK) and Riverstone Managing Agency.
The company said Thomas has more than 20 years of executive board level experience in the financial services and insurance sectors and is currently non-executive director of IQUW Syndicate Management. She was previously non-executive director and chairwoman of the risk management committee and member of the audit committee at CNA Insurance and Hardy Underwriting.
Vazquez spent 10 years as chief risk officer at Direct Line Group. Prior to this, he held a variety of roles in the insurance industry over more than 10 years including at HSBC Group and Zurich Insurance Group. He is also non-executive director at Allianz Holdings.
Luke Tanzer, chief executive officer of RiverStone International, said: "We are delighted to have Heather and Jose join our UK boards. They are both highly experienced non-executive directors, and their advisory capabilities will prove invaluable to RiverStone International as we continue to build on our leading position within the global legacy market."
Riveretone established a Bermuda office in February, 2022 with former Enstar executive vice president David Rocke as managing director. Rocke also heads up mergers and acquisitions for RiverStone.
More on this story
article
26 July 2022  
The new hire joins RiverStone as group head of legal and company secretary.
News
5 July 2022  
The appointments all relate to RiverStone International's growth strategy.
Bermuda Re
Newton Media Ltd
Kingfisher House
21-23 Elmfield Road
BR1 1LT
United Kingdom